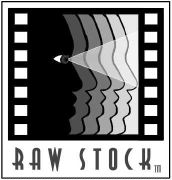 CELEBRATING CINEMA
OAKLAND, CA
Nov. 6-11, 2000

2nd Annual

RAW STOCK

Film/Video Festival

In Partnership with

Mills College

Dept. of Dramatc Arts & Communications

&

World Trust, Inc.

(Fiscal Sponsor)
---
CALL FOR ENTRIES!
MISSION STATEMENT:

RAW STOCKtm Celebrating Cinema, Oakland, CA,
is a film/video festival focusing primarily on filmmakers of color in the Oakland/Bay Area. It is an education/community-based festival affording the opportunity to establish the bonds of inter-community dialogue between multi-cultural, multi-ethnic, multi-socio-econmic groups in an informal atmosphere. RAW STOCKtm exists because it acknowledges:


1) the opportunity to present independent works by filmmakers of color to the very communities the works were created for;


2) the need for these artists and their respective communities to come together exploring their differences and similarities through an education based forum of screenings and discussions;


3) the necessity for a permanent film/video event focusing long needed attention on the multitude of artists of color within the Oakland/Bay Area.


In so doing, RAW STOCKtm is an annual event putting a positive light on the collective artistic richness that is Oakland while acting as a bridge into on-going dialogue between all inclusive Oakland/Bay Area communities.
CRITERIA:

All works must address one or all areas in the RAW STOCK theme - RACE, GENDER, CULTURE & IMAGE: WE HAVE DOMINION and ideally be either principally produced, directed, and/or written by people of color. No category restrictions, each work is juried based on its own merit . We expect provocative, challenging, incisive, socially responsive work in any genre or style. Works must have been completed within the last 5 years and may be shorts to feature length. Each piece must be submitted with an entry form and $35 entry fee by June 30, 2000.
TO ENTER:
All entries (viewing copies) must be submitted in VHS format only; one entry form per submission with a $35 non-refundable entry fee made payable to "RAW STOCK/World Trust, Inc." Be sure to include a stamped, self-addressed envelope; a one paragraph (short) project description; and a VERY brief (one paragraph) personal bio. Entries must be post-marked by June 30, 2000. (DO NOT use fiber-padded envelopes for videotapes. Their residue is neither tape nor equipment friendly!) Mail all entries to RAW STOCK, Mills College, 5000 MacArthur Blvd., Oakland, CA 94613. For additional information and downloadable entry forms visit our website, RAWSTOCK.ORG.
DISCLAIMER: Entry fee is non-refundable; VHS tapes will not be returned. We will take every precaution in handling materials. RAW STOCK and/or its representatives will not be held liable for any damage or loss of film/videos. Winning works become part of the RAW STOCK archive and will be submitted to Hollywood Video (HV) for consideration in the annual HV/RAW STOCK compilation tape made available thru HV stores nationally. All selected works will also be considered for inclusion in the national RAW STOCK Tour.

For additional information, please visit our website www.rawstock.org
or call
510-430-3226